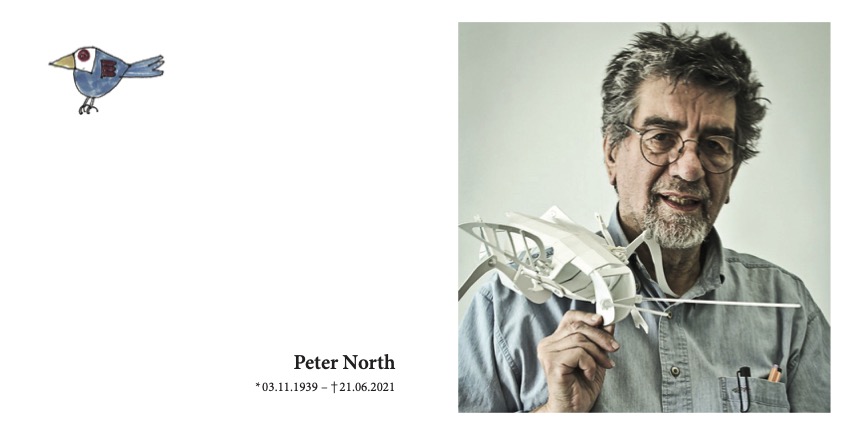 Peter Franz J. North was born in Vienna, Austria, on November 3, 1939. He studied at the University of Applied Arts in Vienna, at the University of Pennsylvania in the United States and specialized in bionics in Milan, Italy. He received his doctorate in 1990 from the University of Illinois, where he became professor emeritus. His professional activity has always been related to design in conjunction with technology, in search of a healthy coexistence between man and his environment. His professional activity has been in the fields of industrial design, architecture, interior design and landscape architecture.
An eternal traveler and nature lover, Peter used to say, "I have a soft spot for sustainability," and so every project he undertook was always focused on the future. For him, sustainability was an absolute commitment, and he was always eager to involve his students and colleagues. "If you can't recycle, you shouldn't produce," he often said.
Although he never stopped traveling, he made Mexico his home.
Peter North was one of the founding professors of Gestalt University of Design. Along with other greats such as Antonio Pérez "Ñiko" and architect Filiberto Triana, he was convinced of the educational project and became close friends with Dr. Joel Olivares Ruiz. This team added new experiences and knowledge with each teacher, laying the foundation for this project that has been successful for more than 30 years and has a transcendent impact. Among his outstanding contributions to the University is the project in collaboration with Universidad Veracruzana, Ready for the Market, which was presented to the World Bank in Washington, D.C..
He has served as academic director of Moore College of Art & Design in Philadelphia, general director of industrial design at the University of Illinois, and member of the College of Industrial Design at the University of Los Andes, Colombia. He has participated in numerous lectures, workshops and seminars for undergraduate and graduate students in Mexico and the rest of the world.
As a teacher at UGD, Peter North led countless workshops and courses, always respecting the specificity of each individual. "What is your talent, what do you like to do?" he would ask in his classes. "You're one of those people who still wears a wristwatch!" Those who had the pleasure of having him as a teacher will remember his slow pace, friendly smile and bright eyes. He knew how to observe with great respect, he listened attentively; he wrote, drew or photographed everything. It was important to create the register.
Peter always loved art and design, but also the simple pleasures, the beauty of simple, everyday things. For him it was natural to share wonders.
Our dear teacher, friend and colleague has passed from this world, but all of us with whom he kindly shared his knowledge carry something of him into the future. The restless and curious traveler goes on.
For every word, every touch and every smile…. Thank you, dear master!
(From the obituary of the Universidad de Gestalt de Design, Xalapa, Veracruz – Mexico, 2021)